Automatic Induction Aluminium Foil Sealing Machines
Automatic Induction Aluminium Foil Sealing Machines
Manufacturer of induction cap sealing machine for more than 20 years

Whether you need a cap sealing machine for high volume production or laboratory cap sealing, DaGuang has an induction sealing equipment solution for you. We have more than 20 years of experience in the manufacture and R&D of aluminum foil sealers. Each of our induction sealing machines is designed for rugged and reliable field performance. Our experts can help guide you in selecting the perfect induction sealer to ensure you achieve a perfect induction seal.
If performance and system control are important, DG-4000A PLUS/FS-1 induction cap sealing machine is a good choice.It's keypad opration panel provides high tech operations such as Heating switch control, output power increase and decrease, etc.
For your most challenging induction sealing requirements, try our DG-3000A and DG-4000A Automatic High speed Water Cooled Sealing Machine.
Meanwhile our DG-3000E or DG-1500B air cooled induction sealing machines meets all the performance criteria of the food, beverage, cosmetic, oil and chemical industries.
If you don't have a conveyor belt, DG-1500A is the best choice.
For hand-held and manual induction sealing, We offers the portable DG-500I, the semi-automatic cap sealing system DG-900AD.
Induction cap sealing machine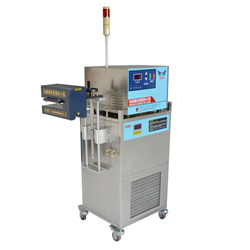 FS-1 Water Cooled Induction Aluminium Foil Sealing Machine, Sealing for Plastic and Glass Bottles
Rated voltage:AC 220V 50/60Hz
Maximum output power:4000W
Sealing speed:50-750 pieces/minutes
Sealing diameter:15mm to 55mm or 30mm to 70mm or 60mm to 140mm
Appearance:304 Stainless steel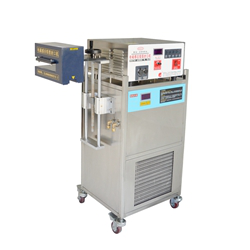 DG-4000A Automatic High speed Water Cooled Sealing Machine Max 4000W
Rated voltage:AC 220V 50/60Hz
Maximum output power:4000W
Sealing speed:50-750 pieces/minutes
Sealing diameter:15mm to 55mm or 30mm to 70mm or 60mm to 140mm
Appearance:304 Stainless steel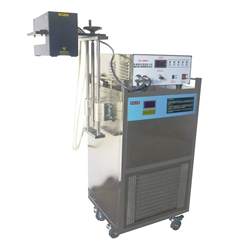 DG-3000A Automatic High speed Water Cooled Sealing Machine Max 3000W
Rated voltage:AC 220V 50/60Hz
Maximum output power:3000W
Sealing speed:50-500 pieces/minutes
Sealing diameter:15mm to 55mm or 30mm to 70mm or 60mm to 140mm
Appearance:304 Stainless steel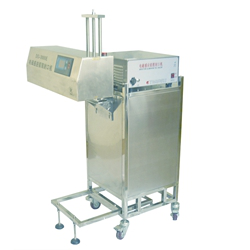 DG-3000E Air Cooled Induction Aluminium Foil Sealer
Rated voltage:AC 220V 50/60Hz
Maximum output power:3000W
Sealing speed:40-280 pieces/minutes
Sealing diameter:20mm to 80mm or 70mm to110mm
Appearance:304 Stainless steel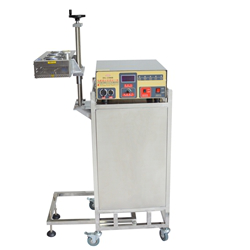 DG-1500B Air Cooled Induction Aluminium Foil Sealing Machine, Sealing for Plastic and Glass Bottles
Rated voltage:AC 220V 50/60Hz
Maximum output power:2000W
Sealing speed:40-180 pieces/minutes
Sealing diameter:20mm to 80mm or 70mm to110mm
Appearance:304 Stainless steel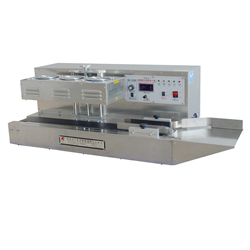 DG-1500A Air Cooled Top Cap Sealing Machine With Conveyer Belt
Rated voltage:AC 220V 50/60Hz
Maximum output power:2000W
Sealing speed:40-180 pieces/minutes
Sealing diameter:20mm to 80mm or 70mm to110mm
Appearance:304 Stainless steel
Sealing height:40mm to 210mm or custom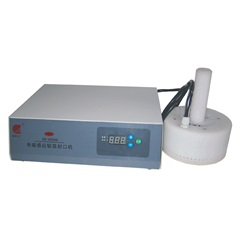 DG-900AD Handheld Induction Sealer Manual Induction Aluminium Foil Sealer
Rated voltage:AC 220V 50/60Hz
Maximum output power:
900W(20mm to 50mm)
1200W(50mm to 120mm)
Sealing speed:5-20 pieces/minutes
Sealing diameter:20mm to 50mm or 50mm to 120mm
Appearance: Sprayiron shell
Sealing height: no limit